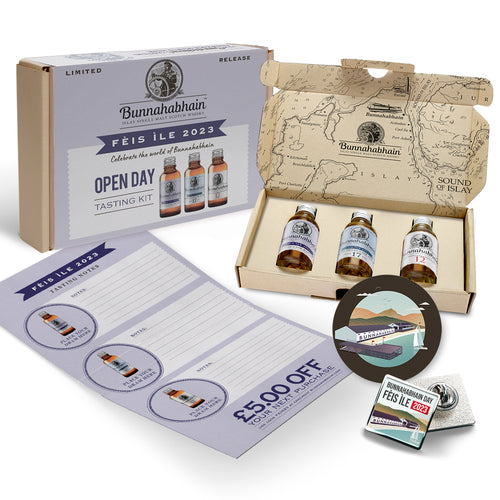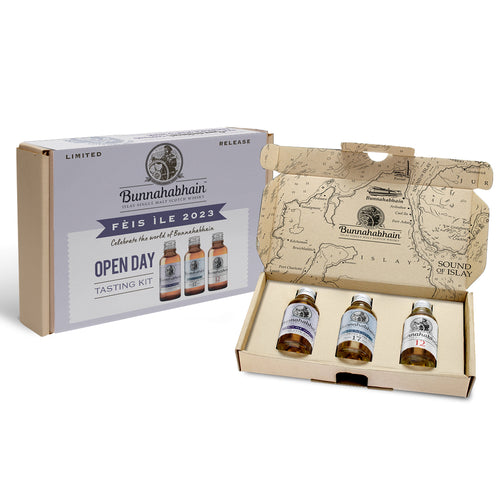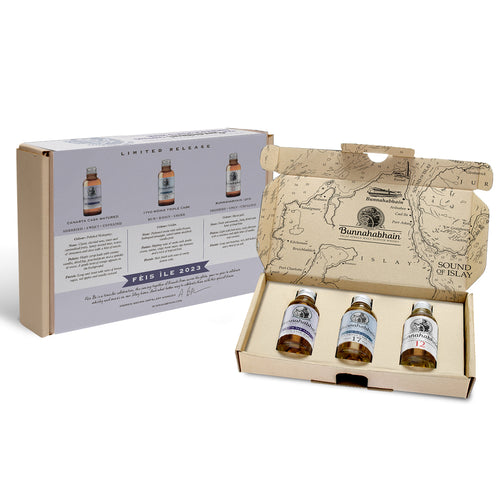 Fèis Ìle 2023: Open Day Tasting Kit
Celebrate the world of Bunnahabhain with our Fèis Ìle Open Day Tasting Kit. This kit includes two of our limited edition Fèis Ìle 2023 special releases - the peated 17 year old Triple Wood Distillery Exclusive and Canasta Cask Limited Edition, alongside our renowned 12 Year Old.
Join us on Islay with these great drams! 
Fèis Ìle 2023: Open Day Tasting Kit contains: (3x3cl)
1 x 3cl Bunnahabhain 12yo
1 x 3cl Fèis Ìle Canasta Matured Limited Edition
1 x 3cl 

Fèis Ìle 17yo Moine Triple Cask Distillery Exclusive 
Fèis Ìle 2023 Glass Cover

Fèis Ìle 2023 Pin Badge
Description
Containing 3x 3cl drams of the following:
Bunnahabhain 12 Year Old: 46.3% ABV
Fèis Ìle 2023: Canasta Cask Matured: 51.2% ABV
Fèis Ìle 2023:17 Year Old Moine Triple Cask: 52.6% ABV
All our whiskies are bottled with natural colour and are non-chillfiltered.
Customer reviews
Discover Bunnahabhain
Find out more about our distillery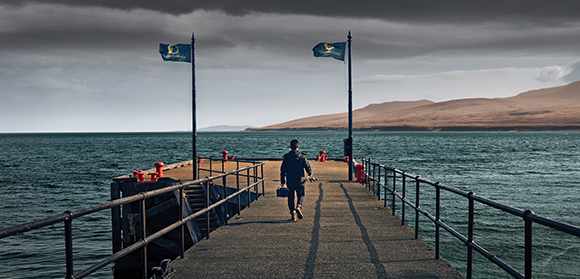 About Us
Situated at the end of a small single track road, on the shores of the Sound of Islay, Bunnahabhain is known for its spectacular surroundings and delicious signature unpeated Islay Single Malt Whisky.
Discover More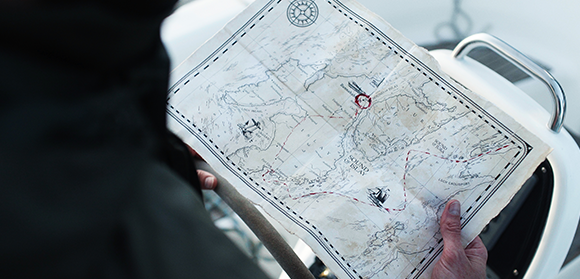 Plan your Visit
Surrounded by stunning landscape and magnificent views across the Sound of Islay, there really is no better place to enjoy a dram of Bunnahabhain.
Plan your Visit