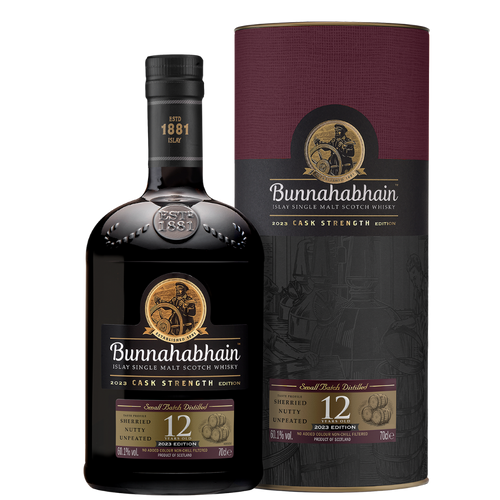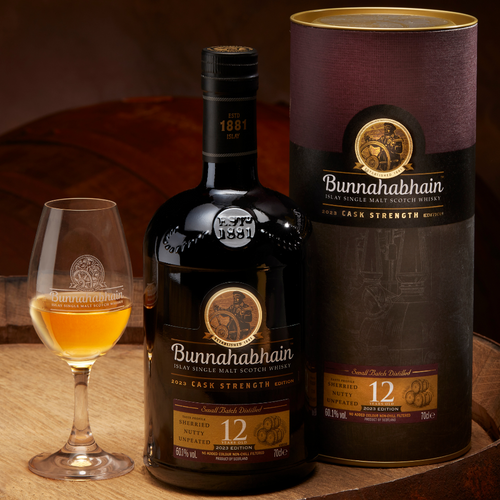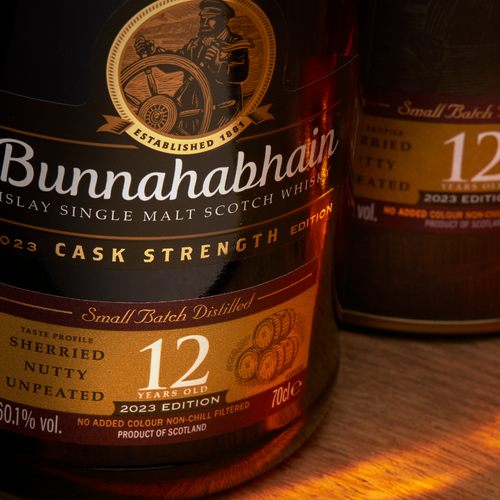 12 Year Old Cask Strength: 2023 Edition
Our third annual 12-Year-Old Cask Strength has been bottled at a higher ABV of 60.1% and retained a full spectrum of flavours which have been developed from the sherry casks during maturation. The 2023 edition delivers a fruiter profile with notes of stone and figs at the forefront, and a less spicy finish with sweet notes of fresh vanilla pods.
More Information
Matured on the remote, north-eastern coastline of Islay, and produced using natural spring water from the Margadale spring, this 12-Year-Old Cask Strength is an undiluted celebration of the distillery's hugely popular Bunnahabhain 12-Year-Old.
When people embark on a journey to Islay and try Bunnahabhain whiskies straight from cask in the ever-popular Warehouse 9, it creates so much joy and excitement. However, we know that not everyone can make the trip to our remote distillery home to experience this for themselves. Therefore, this limited edition 12-Year-Old cask strength gives people from around the world the chance to experience it for themselves
Tasting Notes
Colour:
Deep mahogany
Nose:
Floral and nutty with notes of marzipan, hazelnut, almond cream and morello cherries.
Palate:
Roasted nuts and spice lead the way with cinnamon and cloves fading to reveal soft notes of butterscotch, toffee, sultanas and a gentle hint of coffee.
Finish:
Lingering notes of cloves, hazelnut and cocoa.
Customer reviews
Discover Bunnahabhain
Find out more about our distillery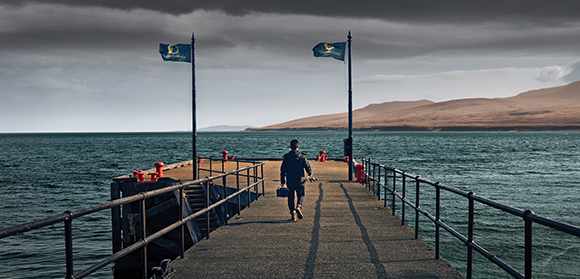 About Us
Situated at the end of a small single track road, on the shores of the Sound of Islay, Bunnahabhain is known for its spectacular surroundings and delicious signature unpeated Islay Single Malt Whisky.
Discover More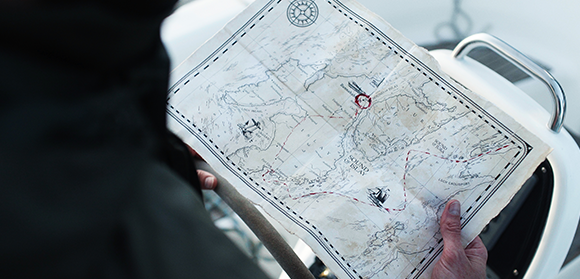 Plan your Visit
Surrounded by stunning landscape and magnificent views across the Sound of Islay, there really is no better place to enjoy a dram of Bunnahabhain.
Plan your Visit